The first of July while I was on the phone with Jesus Rodriguez and Pablo Cibraro, I received a very important email from the Microsoft MVP program; I was granted the Connected System MVP Award. It was funny that I read that email out loud in that call, since Jesus and Pablo where the guys who pushed me and mentored me in achieving this award. One part of the story they didn't know is that at the same time, my wife Veronica was reading the email, and she was jumping off her chair of happiness, the reason being that getting the MVP was a very ambitious goal I had and for which I worked very hard throughout the year. So I want to take this opportunity to thank Jesus, Pablo and Veronica for being there for me all this time.
So what is the MVP?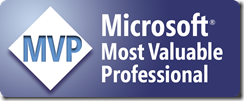 From the MVP program website, they describe it like this:
We seek to recognize the best and brightest from technology communities around the world with the Microsoft® Most Valuable Professional (MVP) Award.

These exceptional community leaders come from a wide range of backgrounds. They are teachers, artists, doctors, engineers, as well as technologists, who actively share their high-quality, real-world technical expertise with the community and with Microsoft.

With the MVP Award, we thank these inspiring individuals for representing the voice of thousands in the community through the powerful and independent feedback they give us, and for helping our customers maximize the potential of their software.
What is Connected System?
In the last few years, I've come to learn and master the WCF stack, and SOA practices, and had a hell of a time while doing it. So it has become my main area of expertise to explore ways to connect systems. The latest being through the use of REST services with the new WCF Web API.
Why did I want to become an MVP?
Before I joined Tellago, I knew little about the MVP program, but when Jesus and Pablo told me more about it I just loved the idea. To be awarded and recognized for your efforts in the tech community, makes contributing even more exciting. During this trip, I have known extremely cool people, excellent professionals, I had countless interesting debates, and it couldn't have been a better experience.
Since the beginning, it was Tellago's vision to serve to their employees as a platform for growing as professionals, and the fact that I was able to become an MVP is just one of the many proofs that Tellago stays true to that vision, and it's, in my opinion, what makes Tellago the best company I've ever worked for.
---